Have you thought of curing and preserving your Olives?
Growing an Olive tree in the U.K climate is pretty straightforward, they are a hardy and robust tree, often referred to as The Tree of Life. Growing an Olive tree means you have year long colour in your garden as they are evergreen. As they are a fruit tree they will also give you fruit. Hoorah!
Olive Trees will yield fruit if you prune them correctly and feed them. They love tomato feed. Start feeding them in May and feed regularly till October.
Here's how to prepare your Olives
There are four steps to preparing and curing your Olives.
Step one:
Step two:
Step three:
Step four:
Green Olive Recipe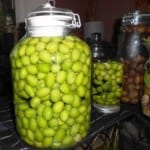 Note that for green olives everything is basically the same. But you cannot slit a green Olive. You will need to hit it with a hammer or mallet so that the skin breaks irregularly. Also step one takes twice as long to get rid of the bitterness.
Enjoy your Norfolk Olives!