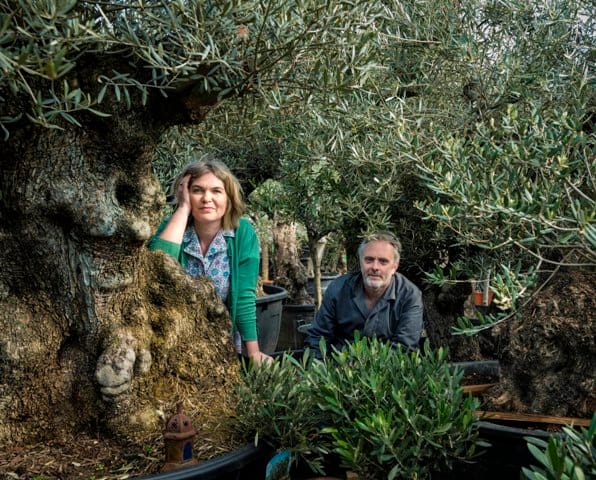 This page tells you a bit about who we are at The Norfolk Olive Tree Company.
Paul Smith
The Norfolk Olive Tree Company is run by Paul Smith and his wife Antonia.
Paul is a qualified arborist. With over 20 years experience of pruning and tree care, he is tree-mendously obsessed by all things green. Paul combines a wealth of expertise and knowledge with a passion for the Olive tree. He will help you find the perfect olive tree for your garden and give plenty of advice on how to grow flourishing Olive trees in the UK. He has been growing Olive trees in the U.K for over ten years now as well as importing Olive trees from approved and licenced suppliers in Valencia and Catalonia.Our Olive trees have been hand selected by Paul for their architectural shape and form.
Paul ran The Courtyard Garden Centre in Norwich for several years and this is where his love of olive trees began, with one tree in particular.
Antonia Smith
Antonia started working with her husband when they built the Courtyard Garden Centre and Cafe.  Norfolk Magazine named The Courtyard as one of the Top 10 cafes in Norfolk.
In her youth she was a Can Can dancer she now sings in a French Chanson duo 'Girl Dubois'
She loves Olive trees as they remind her of her life living in the Mediterranean in her twenties. She also loves the fact they are a no nonsense species, tough and hardy! Antonia also loves experimenting with curing and preserving Olives.She has given talks for the BBC good food guide and written blogs on how to cure your Olive Crop. You can find her tried and tested Recipe here.
Our Love Affair with Olive Trees
This is the tree that began our love affair with olives. It's one hundred years old and as hardy as you like.
In early 2013, when the snow came thick and fast, it was absolutely covered in snow like the abominable snow man.
When the snow finally left, it stood strong, bold and forever green!
Ask the Expert
Paul is available onsite for expert advice and guidance Fridays and Saturdays 10 – 6pm. As a fully qualified Tree Surgeon and plant person he can advise you on how to grow an Olive tree and keep it healthy. He can also help you find the ideal companion plants for your garden.We have a large selection of Palm Trees for sale ideal for the riviera look. We also have a large selection of sedum, cacti and succulents. Instagram favourite sempervivum are ideal at creating year long colour in your garden.
Why not book a free 30 minute advice session?
Olive Trees For Sale
We offer a wide selection of Olive Trees and other plants for sale from our Show Garden in Norwich. You can also buy Olive trees from our online shop.
Mediterranean Lifestyle
We also love trawling the flea markets of Provence and have selected a range of items for sale in our online shop to brighten and adorn your home and garden.