Why The Norfolk Olive Tree Company?
The Norfolk Olive Tree Company is an award winning husband and wife team who have been sourcing and supplying top-quality, olive trees and Mediterranean plants throughout the UK for 10 years.
Our knowledge and enthusiasm for Mediterranean plants has made us a popular choice as guest speakers on radio and at gardening events. We are just as passionate about customer service and pride ourselves on ensuring that customers get not only beautiful, quality plants, but also expert advice and aftercare.
All plants come with Plant Passports and are DEFRA approved. In addition, we ensure that your plant will be delivered directly to your door by our specialist courier (we never allow kerb-side drop offs!) what's more we can arrange to deliver your larger trees to the exact spot required. Anything is possible!
We offer a wide selection of Olive Trees and other plants for sale from our nursery on the outskirts of Norwich, available to view by appointment. You can also buy Olive trees from our online shop.
We love and understand our products. For any queries please call us on 07766730893 or send us a message from our Contact form
With checkout security with advanced encryption you are guaranteed that your purchases are safe.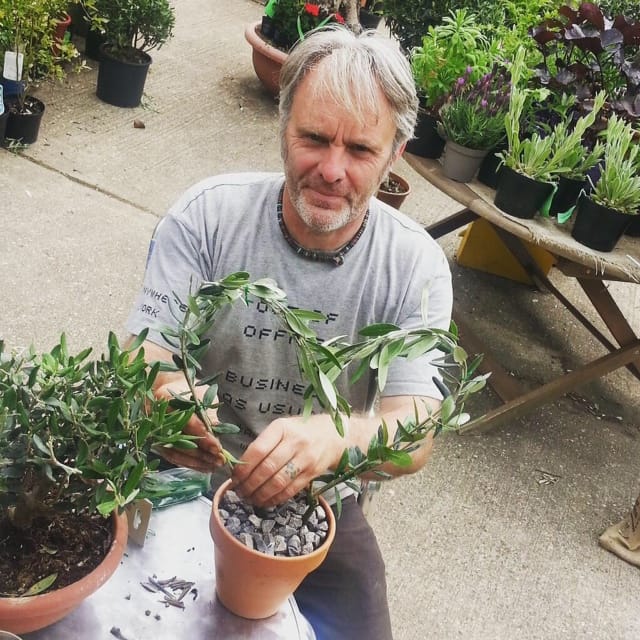 The Norfolk Olive Tree Company is run by Paul Smith and his wife Antonia. Multi award winning suppliers and garden designers.
Paul is a qualified arborist. With over 20 years experience of pruning and tree care, he is tree-mendously obsessed by all things green. Paul combines a wealth of expertise and knowledge with a passion for the Olive tree. He will help you find the perfect olive tree for your garden and give plenty of advice on how to grow flourishing Olive trees in the UK. He has been growing Olive trees in the U.K for over ten years now as well as importing Olive trees from approved and licenced suppliers in Valencia and Catalonia.Our Olive trees have been hand selected by Paul for their architectural shape and form.
Paul ran The Courtyard Garden Centre in Norwich for several years and this is where his love of olive trees began, with one tree in particular.
Antonia started working with her husband when they built the Courtyard Garden Centre and Cafe.  Norfolk Magazine named The Courtyard as one of the Top 10 cafes in Norfolk.
In her youth she was a Can Can dancer she now sings in a French Chanson duo 'Girl Dubois'
She loves Olive trees as they remind her of her life living in the Mediterranean in her twenties. She also loves the fact they are a no nonsense species, tough and hardy! Antonia also loves experimenting with curing and preserving Olives.She has given talks for the BBC good food guide and written blogs on how to cure your Olive Crop. You can find her tried and tested Recipe here.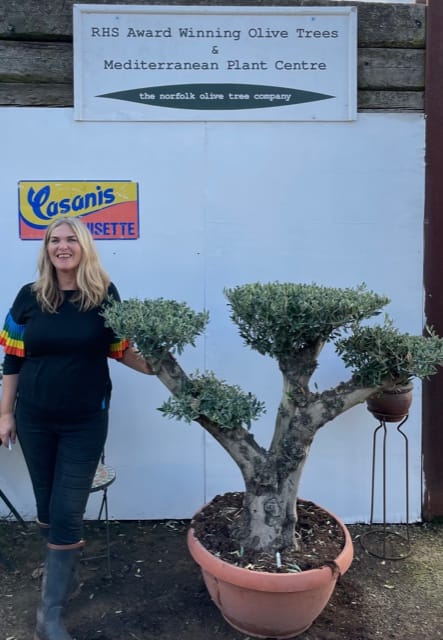 Olive Trees: Branches and Christmas Wishes As Christmas approaches and festive decorations adorn homes, there's one element that deserves its moment in the spotlight – olive trees. While evergreens like pine and fir take centre stage, the olive tree offers a charming alternative to make Christmas extraordinary. Join us on a journey through the allure of olive trees during the […]
Our most popular products