Feedback from some of our happy customers
Tree Sales
"The tree looks amazing in situ – thank you so much. Lovely delivery man too."

– Izzy, Wiltshire (January 2018)
"Just wanted to let you both know that 'Steve' [our olive tree] appears to be loving his new home. Thanks for all your help and for being such fabulous people."
– Matt and Ju, Norwich (November 2017)
"Sorry you had to work so late but very many thanks for a great tree and great service."
– Mr Hutchinson, Norwich (May 2017)
"Thank you for all your help on Thursday when we purchased our first olive tree. You gave us all the information we needed and answered all our questions. Tree is in its position now, once again thank you."
– Sonya & Phil, Heacham (April 2017)
"Has been a pleasure dealing with Antonia, incredibly helpful and patient with heaps of advice and knowledge. 5 star service with 5 star trees. Will use the Norfolk Olive tree Company every time!"
– Matthew, London. (March 2017)
"Apologies this has taken a week but since the delivery of the lovely Olive Tree we seem to have had every season under the sun and I nearly need a boat for the patio at times!
I just wanted to say thank you very much as I was not at home when your husband arrived but it was a nice surprise and the tree is in its new location and a perfect fit! Thank you."
– Suzie (February 2017)
"The trees look great!"
– Tim, Cley-next-the-Sea, Norfolk (January 2017)
"Project finished – your tree is GORGEOUS!"
– Virginia, London (November 2016)
"My olive espalier has grown and grown up its south facing wall – took a while to take off but then it went mad. Lovely….Thanks for the tips and care-sheet!"
– Sophie, Norwich (September 2016)
"Beautiful tree. Arrived promptly. Great service !"
– Helen, Slough (August 2016)
"Thanks Antonia, it's been fabulous chatting with you the last few days and thank you so much for making this all happen at the speed I wanted it to happen, you are quite fabulous."
– Andy, Poole (June 2016).
Inspired? Browse our latest arrivals!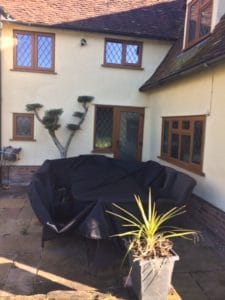 Tree Hire
Customers love our bespoke Olive tree hire service too.
"Now that we have got our breath back I wanted to say a huge thank you. Your trees were stunning. We were so happy and grateful. Hope you are well and sending best."
– India, London (October 2016)