Opening hours: Monday , Friday , Saturday 10am – 6pm and
Sundays 10 – 4pm
61 Riverside Road, Norwich NR1 1SR (next to the Cotswold Company)
A Passion For Olive Trees
From an avenue of Standard Olive Trees to an ancient gnarled masterpiece, here at The Norfolk Olive Tree Company we can find you the tree of your dreams.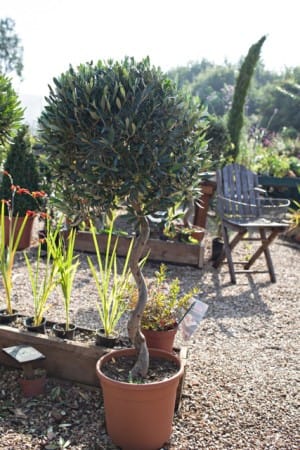 A Husband and Wife Team with a passion for Olive Trees we only stock trees of the highest quality. We have travelled the length and breadth of Valencia and Tuscany to select the best Olive Trees available.
Online Shop and Show Garden
We sell a wide selection of olive trees in our online shop.
Our new show garden opened on 14th March 2015 and features not only Olive Trees for sale, but a generous variety of other Plant species to delight gardeners. Keep up to date with what's new on our blog.
Hire an Olive Tree for your Wedding, Party or Event
An Olive Tree can provide a focal point for your special day.
Why not Hire an Olive Tree from us?
View our Tree Hire Price List.
Garden Design
If it's garden design you need then we can create spaces that you will want to sit in forever. Olive Trees are extremely hardy and make a beautiful alternative as a centrepiece to any garden. Our designs and knowledge of complimentary planting will add to their unique beauty.
Ask The Expert
Why not book a free 30 minute advice session?